1
Mask
10
Years Lifetime
100
Variations
1000
Times Sterilizable
When people's health and lives are at stake, careful consideration must be given and action taken as quickly and responsibly as possible. That was the initial reason we developed the AirCare+ mask.
AirCare+ provides FFP3 protection in style
The last few months under the influence of the Covid-19 pandemic have shown us how important easy and fast access to professional protective equipment is for emergency services, doctores, nursing staff, special forces and also the population.
This realization prompted us to immediately develop the AirCare+ mask. A highly efficient and sustainable FFP3 respiratory protection mask that meets the highest standards in quality and design.
Due to its unique, ergonomic design, the air cannot be inhaled and exhaled unfiltered, because it is always cleaned by the high-performance FFP3 certified filter.
We use high quality medical silicone which can withstand the mechanical stress during permanent motion without any problems. Due to the elasticity of the material, the fibres cannot break into harmful microparticles, as we know from conventional masks. The AirCare+ mask thus offers a safety standard at the highest level.
The sustainable production in Germany and Austria not only ensures a secure supply chain, but also the best quality and conscientious handling of raw materials.
With support of the Ministry of Defense and experts from the teaching staff of the University of Linz, we have succeeded in developing the AirCare+ mask, an efficient, easy available high performance safety product.
Advantages of AirCare+ mask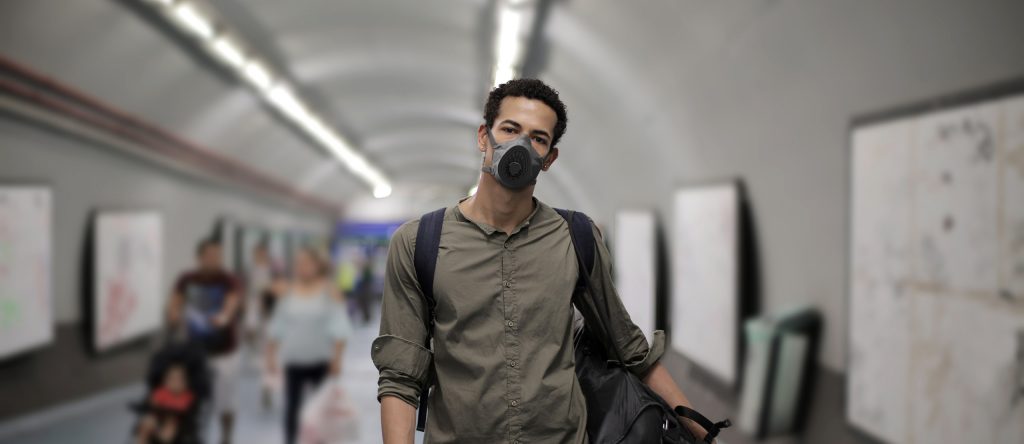 Our Intention
Equipment that ensures survival must be uncompromising in quality.
The functionality must be safe, reliable and permanently guaranteed.
It must be produced locally and be available and affordable for everyone.
The equipment must be environmentally friendly and ecologically sound.
There are still many brave people who work in the health care and rescue services, as security forces, in the police or in special forces, who put their lives on the line every day to help others and yet have no access to functional protective equipment.
Due to inadequate protection, these important functionaries gradually fall out due to infection and illness, because they take care of those affected and those in need. As a result, the system and society inevitably collapse.
To avoid such a scenario, we launched AirCare+ on the market. A high performance product that is highly efficient, independent and immediately available.
Multiple Award Winner…
Mask Comparison
AirCare+
Standard FFP3/N99
Materials

No metals or corrosive materials
Metal nose clip: risk of corrosion, breakage or injury
Lifetime

10 years lifetime
1000x sterilizable
Single-time use until the mask is damp
Weight

49 grams per mask plus 1 gram per filter
1 mask and 100 filters = 149 grams
(equals 50 days of usage)
1000 days = 1.14 KG
average 18 grams per mask
100 masks = 1,800 grams
(equals 50 days of usage)
1000 days = 36 KG
Waste

10,000 people à 2 filters/day:
7.3 tons of waste per year
(AirCare+ Filter 1 gram)
10,000 people à 2 filters/day:
appr. 262 tons of waste per year
(average 18 grams per mask)
Moisture

Moisture and rain does not impair the integrity of the mask. Drying it and changing the filter restores its effectiveness.
Moisture and rain renders the mask ineffective.